"I love you more than you love me…"
The lush green maiden basking in the warmth of the mid-morning sun rays witnessed the contagious moments of our togetherness. The canopy of the dense Peepal with its jovial branches playing in the tranquil breeze etched a cool a shade on her face for seconds before it was once again smiling in the aureate light of sun.
I lay on the grass quietly, its extended leaves giving my ears a tingle as I kept listening to her enthusiastic talks. She was never tired of it and listening to her was something that brought me immense joy. Likewise we complimented each other in the best possible way. She was like a cherry to my scoop of chocolate ice-cream and I was the one who never had an ice-cream without my cherry. We are basically inseparables. Sky would have never been so glamorous without the sun lighting it up…just the way my cherry's talks are incomplete without my patient and lovely hearing. I kept looking at her and her lips that kept moving to innocent clatter. I loved the way daylight beautifully nudges the soft texture of her cheeks to various shades of red, I loved the way the jolly Peepal tree makes the loosely held strands of her jet black hair sway across her face, I loved the way she nagged to know whether I had my meal or not….and last but not the least I loved to get defeated in the fight of - I love you more than you love me-
Someday I would love to prove that I love her more than she loves me. Oh! Wait…let it be like that. I love to be defeated till the time Cherry is the opponent, for the charismatic smile that I get in return of my defeat is simple priceless.
Yes, love rewards both the contenders and that is why it is called LOVE. If you win, you are lucky…if you lose, you are happy because you lose to someone who loves you more than you love her. Interesting eh..!!??
I wonder how she managed to picturise every single happening of her life with utmost perfection, unlike me who would stammer to deliver a seminar in my office on Business Expansion to our clients. My ever disappointed boss had given up his dreams to see his business literally expand someday. On the other hand my cherry always left in me an eternal joy with her talks. She began from 'what I meant to her' and ended at 'I don't know what you mean, but you are simply awesome'. Everything in between had her joys, like a buzzing bee going around me (the beautiful fauna of her life) to seek the nectar of love.
Tomorrow I am leaving for a business meet in Delhi. I would be away for a week. I would be away from my cheery. Time often changes colour like a garden lizard, hours get spent like seconds being with her and when it comes to staying away from her, time starts to crawl on its knees. It will almost pause itself. This one week of separation will give a 'miss you' feel of one year or even more.
Dear Time, Why are you so cruel? I guess you have never been in love…!!
"One weeeekk…!!!" she said with lips curving down in disappointment, her fingers tightening its grip on my t-shirt. Give her a chance and she won't allow me to be away for a moment.
I cupped her face in my palms and checked my eyes from melting down. Love brings joy…but too much love brings tears of joy. "I am leaving tomorrow. Today is still left cherry…let's live it…" Her big, round eyes lined by the kohl had the innocence of an infant. They had only one message to convey- I will miss you. Every steady blink of those expressive eyes was desperate to be loved.
"Don't go nah dear…I will be bored nah…." She spoke lying by me on the sun lit grasses.
"Just a week…will be back…." I tried to instil some confidence.
"You so bad…." She replied and turned the other side. She is the cutest girl in the world when she tries to be angry with me. The very combination of her cute red nose accompanying those upset eyes was igniting passion in me. I just wish she is a tad angrier.
I let my fingers run through her hairs holding my desire to gift one hug. I kept looking up the bright sky with floaters blurring my eyes; the very shade of cobalt air held high above me, shared an ethnic resemblance with the freshness of our love. The beginning of the day meant a young, beaming sky unlike the sky at the dusk, dead and dusted…yet beautiful. Same was our love held by young blood and united by a little matured heart. Love grows old…only to be more beautiful in the latter phase. The floaters seemed to be lost somewhere from before my sight as I found cherry planting a kiss on my cheek (Thank god! I was clean shaven that day).
"Come soon Berry…" She whispered in my ears. I am her BERRY and she is my CHERRY.
"Sooner than you expect Cherry" I whispered back as two sunburnt leaves from the spread out branches of the Peepal tree touched the grasses.
"Hey…please bring me those leaves…" she said.
"Leaves?? Why??" I queried back.
"Bring nah…please…" the nag that had been successfully defeating me in debates with her for years, was back again and the result being the same. I turned to get those leaves.
"Look…we both gonna write something that our heart says on these leaves and then exchange it. The rule of this game is that you will be seeing it only when we will be away from each other."
"Umm….you are seriously a baby…" I smiled at her innocence.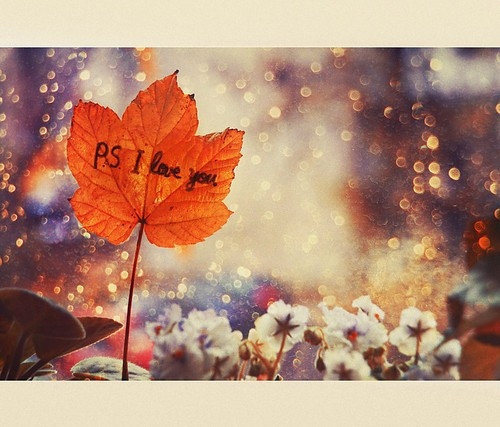 "Do it, come-on…" she replied giving me one of the two leaves. I took out my pen and wrote down what my heart said. I wrote- "I love you my sweet Cherry…" and passed the pen to her.
"Close your eyes first….then I will write…" she said pointing the pen towards my eyes.
I closed my eyes and waited for her to finish. We both exchanged the leaves. She kept it in her clutch and me in my backpack, making sure that we will read it only when we are away.
*****
A lighting fell across the square glass window adjacent to seat E7 of flight IE931, Indigo Airlines as I opened my sleepy eyes to admire the overcast evening sky of the capital city of India. The captain declared the landing, as the cabin crew got back to their business to ensure that every passenger had fastened their seat belts and in no time the flight touched down the runway of Indira Gandhi International Airport. I switched on my cell phone and dropped two messages, one to my mom and the other to my cherry that my flight had made a safe landing here in Delhi. I was on the arrow bridge to the lounge to collect my luggage that the sky had started to drizzle.
I collected my luggage and headed for the exit, neatly placing my RayBan aviators in my pocket. Soon I was out of the terminal making my way through the thick crowd to reach my cab in the backdrop of an acute drizzle adding to the clamour of the place.
"Welcome sir…" greeted the chauffer of the Kenilworth Palace.
I greeted back with a nod and handed him the luggage. Within moments we were cruising down the streets of the capital city to Kenilworth Palace in the company afforded car, an elite class Mercedes and it was then I remembered of that Peepal leave Cherry gave, as a 'miss you' token when we won't be together.
I quickly unzipped my bag to take out the leaf and started to read it in the flashlight of my blackberry handset (once again a company afforded stuff).
The leaf said- "I love you more than you love me, my chweet berry" An involuntary smile invaded my face. I was short of words. I told you, I will never win this battle…rather I don't want to.

The smile lasted way long for an sms had made way to my inbox, it was sent by Cherry.
Now you agree to it nah??

J

Have a safe ride to the hotel.
Yes, I do agree….

J

Take care Cherry.

I replied back placing the leaf back in its place as the Mercedes stopped to security checks at the royal Kenilworth Palace.
Get your story featured here, please contact us at: iampurplepen@gmail.com