"Just a kiss on your lips in the bare moonlight…"
By-Sobhan Pramanik.
I lay snuggled in the comfort of my bed trying to read an incomplete jingle from my diary in the shower of milky moon light. The darkness of my room was not something to be easily defeated but the glitter of those faint streaks had certainly lit up my heart. The soul within me was romping away in the league of passion. Well I wasn't trying to read actually. I was feeling her right there within me. I held the diary against my chest.
I was living in the moist imprints of her porcelain lips on my forehead.
I was missing those drops of rain she caught from outside the window just to splatter them on me.
I missed her wavy hairs tangle in my eye lashes every time she bent down to bite my lips.
I missed the smell of her palm that rested over my eyes and would send me to sleep in minutes…!!

I tried to hide my face behind the pillow from those pearly streaks of incandescence. A tranquil breeze blew up the curtains and in the next second the darkness of my room was buried in the sanctity of the milky glare.
A lethargic Sunday was on its closing notes. All I managed was to multiply the sleeping hours. Yes, I needed that. I spend forty hours every week doing stuffs to keep the clients happy and in all those forty hours I needed to hold back my intensive urge to stab my boss, who has nothing more than exploring the preserved assets of his personal attendant, Stacey. While we slogged our ass off meeting deadlines of the clients, he was busy in dropping his trousers every time Stacey threw him a look. Yes, the look was enough and he will be blue in the next second. Stacey did it for the hope of increment and he lived that because we were there to take care of his clients.
I was done with the sleeping thing for the day. I was frustrated meeting deadlines all these while. I held up the diary from my chest as tranquil streaks illuminated its pages. I saw the incomplete jingle losing its way while seeking rhyme. Writing was not my cup of tea; I just wrote few lines drowning myself in some passionate ocean when I held her hand for the first time. Even moon seemed to damp its light that day allowing us to romance in the lap of a calm evening. We heard our heart beat in its place. We felt the souls within us unite. We felt our eternity drench in a very special feeling of togetherness. After that day I tried many a times to complete that jingle…I never succeeded…I wish I had the torch of words to colour the freshness of the page with my emotions. I tried to read those few passionate lines as the letters seem to go salsa in the silver moon light.
Just a touch of yours in the blanket of darkness…
Just a smile of yours in the calm of the night…
Just a kiss on your lips in the bare moonlight…
Baby, be mine…!!
I was just trying to frame the next line to elaborate my emotions and I saw my cell phone blink. There was a text from Preeti. It said
Keep sleeping and you will miss many such moonlit nights…
L
The gentle breeze turned over the page of my diary from an incomplete jingle to an untouched page. The message had the shut sections of my brain that was trying to frame a jingle and it was busy sketching the 'so baby' expressions of her. 'Did she mean that even she is missing out on moonlit nights? And did it mean that actually WE are missing out altogether?' I questioned to myself and didn't wait for the answer to hit up.
I got down from my bed and followed the shafts of flickering light into the veranda. The lethargy let loose with the calm ambience begging a part of me to live these moments. May be I forgot to live my own life meeting deadlines and satisfying customers with added work hours.
Yes, the life was lost in the stride of profession and who knows I may not get to live another evening under the dark sky allowing the moon to play havoc over its face.
I choose a white half sleeve shirt to camouflage myself in her arms in this beautiful atmosphere teemed with light blue denim and left my home. I hit the empty roads of Kolkata in my car, my senses hypnotized by the charm of nature. I called her up as the moon kept chasing me over those desolate flyovers.
"I am not missing out anymore. I may not have another. Kal kisne dekha hai shona…" I spoke with a heavy sugary voice.
"I am there to decorate your every awaiting tomorrow baby…." And she ended with a dozen smooches.
"See you in ten minutes…"
"Waiting…Waiting….." she replied in a toddler's voice. I could hear her heels go dancing on the floor.
I drove like a sane but my insane heart raced like anything. A part of my mind was still busy in framing the jingle. I tried to recollect…I mumbled.
Just a touch of yours in the blanket of darkness…
Just a smile of yours in the calm of the night…
Just a kiss on your lips in the bare moonlight…
Baby, be mine…!!
I still couldn't add a line and kept repeating the last line in my head for uncountable times. I stretched to slide the nozzle of the perfume, Ambi Pure, to increase its effect. The moon had migrated to my left now, its faint light illuminates my watch and I observe those heart racing ten minutes slowly pass by. I don't know why but time seemed to have a hangover that day…yet I managed to reach there…!!!
Even in the dim of a late evening I couldn't miss the wait in her eyes. Her innocent face had the graph of life portrayed over it. One half of it peeping through her curvy hairs, darker than the night sky above and the other half was laced with the milky light of heaven. Her ivory gown was unbeatable compared to the ambiance. The gentle breeze blowing across tossed her hairs for a split second and I saw her entire face confronting the sliver light emitted from a little over crescent moon. She was too gorgeous to be on earth. I was lucky enough to dream of a love session on the stairs of heaven…somewhere above those buoyant clouds where no one will ever notice us…
I stopped before her and opened the gate.
She stepped in and I heard the central locking system click. My Ambi Pure was defeated before her aroma. I wondered whether she had jasmine spray flowing within her instead of blood. I looked through the window into the star studded sky to spot the moon; it wasn't there. It was there right beside me, clad in a silken ivory gown and one alluring smile crying out the joy of living that serene moment with her beloved. The lucky me..!!
We never disturbed the silence that had frozen those moments between us. Our respective hearts was happily cajoling with each other in the backdrop of a paused time. The moon never left the sky; it was still there following us by the highways over the grassy meadows. I was too much obsessed by 'my moon' to concentrate on the moon up there in the sky.
The roads seemed endless and so was the talk of our hearts. Preeti locked her arms with mine and rested her head on my shoulder. Her hairs once again brushed against my neck and I remembered my incomplete jingle. She let her fingers draw 'heart signs' on my fist that rested over the gear knob.
"I am so happy you finally had time out of your office…." She almost whispered.
"Office?? Not at all!! All the time for you shona…" I tried to enrich the moment with the delicacies of love and definitely my feelings which I never succeeded in putting into words.
She smiled. My heart danced.
"So where are we going??" she asked with a lot of enthusiasm. Her fingers tangled with mine over the gear.
"Wherever these roads take us……" I replied.
"Somewhere…where it will be only two persons, you and me, not even the moon….sirf hum-tum" She spoke stroking my hairs.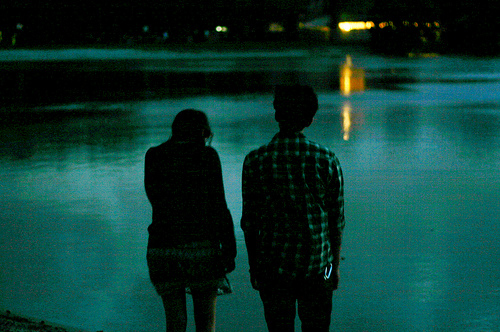 We were some sixty kilometres away from the cacophony of common din as I parked the car by the left of the road. Parallel to us run a narrow stream of waters over those grassy meadows as the moon light beautifully gleamed off its smooth surface. My heart seemed lighter than ever. The deadlines, the clients, the pending stuff and the locked cabin workout of my boss with Stacey, everything seemed to place itself on the backburner. I was out of this world. The evening was being gradually stolen by the approaching night. I saw Preeti snuggle in my arms and it was that day I realized that not all silence has got a melancholy to hide underneath itself; some has got inexpressible joys slowly revealing itself onto the canvas of this melodramatic present.
I was still working over my jingle as Preeti unlocked her arms and recline the seat to the fullest possible limit. I followed her and the next moment we lay in each other's arms. I kissed her chin and my fingers diving into the depth of her wavy strands.
The first line of my jingle involuntarily left my lips. "Just a touch of yours in the blanket of darkness…"
"Just a smile of yours in the calm of the night…Just a kiss on your lips in the bare moonlight…" she replied. My amazement was skiing at that moment.
"Baby, be mine…" I said.
"Just the feel of your joyous heart…" Preeti spoke teething my lips.
"Just the warmth of your soul…" I added. My heart gave my efforts a standing of having finally framed a line.
"Just the love of your life…" She said looking into my eyes. Her eyes had our togetherness etched in it.
"Baby, be mine…" I said blowing at her eyes and the wink it followed was enough to keep me smiling for a week or so.
"Hey…hey…how do you know this?? I wrote them in your memory…" I curiously asked.
"I even know that I have defeated your Ambi Pure quiet easily…and I know that you dream to kiss me in heaven….I reside within you baby…You shouldn't ask all these…." She said, laughing.
I had no words to her response. I once again surrendered to silence and our heart took full advantage of it. I saw the moon hide itself beneath a patch of thick cloud. The darkness of the night started to dominate over the faint glimmer of the cloud hid moon.
"So here we are…sirf hum-tum and not even the moon." I softly spoke as we lay there in each other's embrace pouring ourselves with the feeling of love.
Time that had a hangover few hours back was cruising under the cover of a setting night. It was our love that remained untouched by the onslaught of time.
******
Probably an hour later:-
"Hey, utho…" she said pushing me. I slept in her arms.
I opened my eyes to see the darkness of the night gulping the outskirts of the city. Silence was at par to the vigour of the night.
"Let's go home. Tomorrow your office nah…" she said to me, straitening her seat.
"Ummm…yes…" I replied with a puppy face. There was those tough forty hours of the week awaiting me. I hated that, but then the ecstasy of being with Preeti on the forty first hours held me together. I set the car into ignition with a hopeful smile.
She once again locked her arms with mine, rested her head on my shoulders and prepared to sleep.
"Tumne toh so liya…now my turn…." She said with a smile and closed her eyes.
I was driving back home with the jingle playing itself in the back of my mind. I was happy that it met with a completion.
Just a touch of yours in the blanket of darkness…
Just a smile of yours in the calm of the night…
Just a kiss on your lips in the bare moonlight…
Baby, be mine…!!
Just the feel of your joyous heart…
Just the warmth of your soul…
Just the love of your life…
Baby, be mine…!!
Baby, you will forever be mine…!!!
I was still trying to figure out how she came to know the jingle but then she seriously resided within me and once again it was the moon that followed us all the way to our respective places.
Get your story featured here, please contact us at: iampurplepen@gmail.com